European LCC easyJet has been an early mover in the airline sustainability space. It was one the more proactive airlines when climate change concerns started appearing on airline radars pre Covid.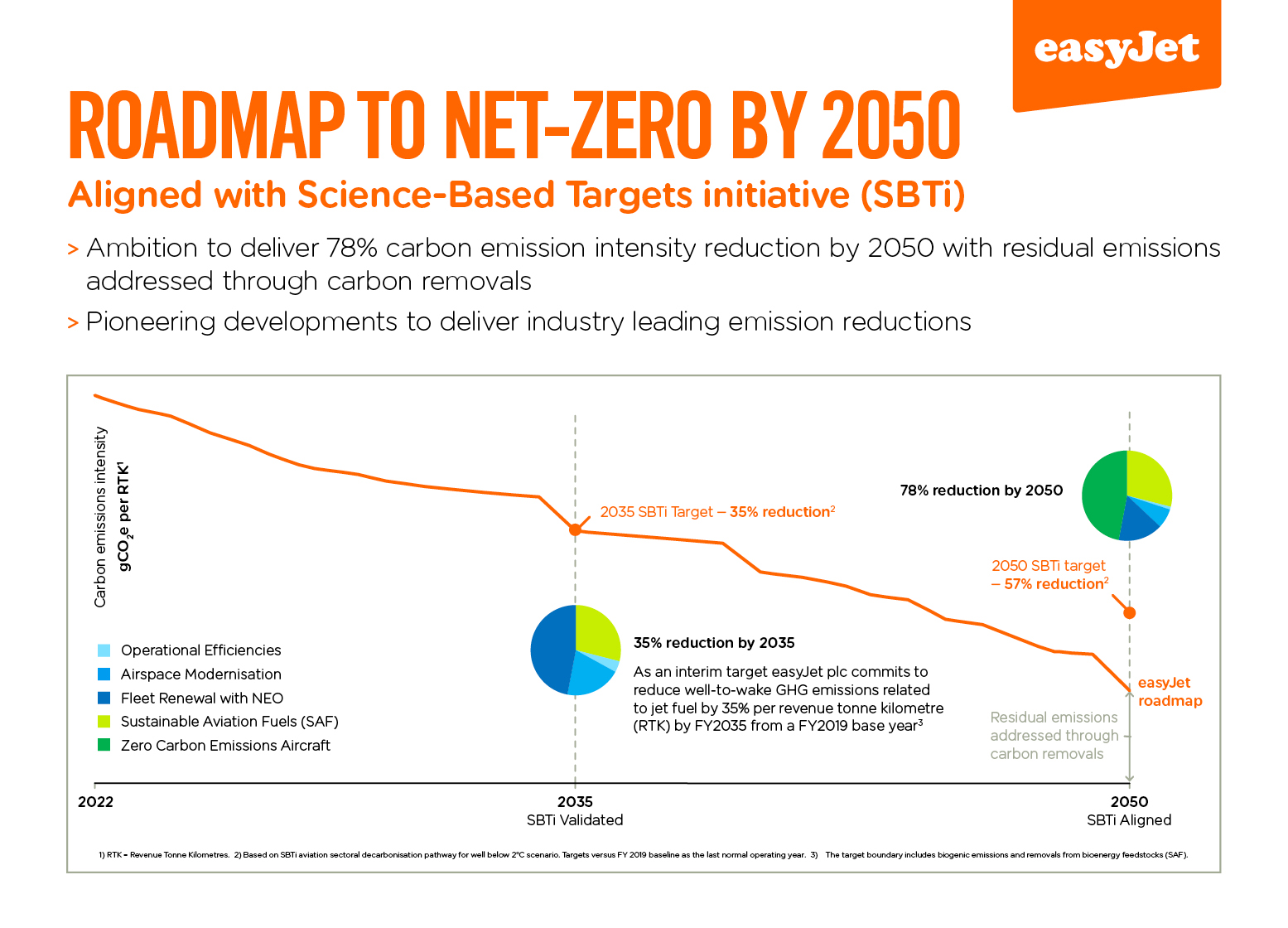 Yesterday it released an accelerated road-map to net zero.  This includes three bets, which mark a departure from its previous plans. We'll look at each of them, and what it means:
1 – A bet on Zero emissions aircraft over SAF
Yesterday's Sustainability in the Air newsletter talked about the EASA report, which showed that Sustainable Aviation Fuel (SAF) will need to do much of the heavy lifting on the road to net zero.  
This mirrors similar findings in earlier reports such as that published by the ICCT.  easyJet is however making a different bet.  Its 2050 roadmap shows almost half the target will be met by Zero Carbons Emissions Aircraft.
2 – A bet on hydrogen over electric
And on that point, easyJet had previously been looking at collaborating with Wright Electric in developing a 100 seat electric aircraft – obviously a challenging proposition given the weight / battery / distance issue.
Though easyJet claims that Wright Electric is still in the frame, the focus now seems to be on hydrogen combustion engines, involving tests with engine manufacturer Rolls Royce.
The reasoning is obvious. The longest easyJet routes are 5+ hours, for example London Gatwick to Egypt or Jordan. Hydrogen has the potential to power similar sized aircraft as are in operation today.
However, hydrogen is also not without problems.  Airbus is running tests on gliders in North Dakota in early 2023, to assess issues around NOx emissions and contrails.
Secondly, Hydrogen requires a completely new infrastructure.
This will need to be present at every airport handling hydrogen aircraft (departure and landing) and potentially at emergency landing airports in between.
How much of an infrastructure?  The Aerospace Technology Institute issued a report in March 2022, looking at what will be required.

By 2050, a 50 million passenger airport will need a 75,000 square metre storage capacity, if gaseous hydrogen is transported via pipeline.  If liquid hydrogen is transported in tankers, a more modest 50,000 metres will be required.
However, if the hydrogen is generated on site (something ZeroAvia for example is looking at), that same airport will be looking at 150,000 metres of storage (ZeroAvia is of course developing hydrogen-electric and not hydrogen combustion engines).
To put this into perspective, LHR's terminals range from 40,000 – 350,000 square metres.  So, allowing for new hydrogen powered aircraft could be an undertaking equal to building a new terminal.
Not impossible, but not without significant cost, and it could also present a problem to airports that are space constrained.
3 – A bet on carbon removals over over carbon offsetting
As we said in our recent carbon removals powerlist, airlines are increasingly engaging with Direct Air Capture (DAC) and carbon transformation companies, the latter of which make products (including SAF) out of CO2.
easyJet has now signed a letter of intent with Airbus to look at how carbon removal technology can be used.
At the Farnborough Air Show, Airbus in turn signed an agreement with Occidental Petroleum subsidiary 1pointfive, which is in turn working with Canadian company Carbon Engineering (which appears in our power-list).
Previously much of easyJet's strategy was based on carbon offsetting.
In fact, easyJet was one of the first (and one of the few) airlines to automatically offset passengers emissions.
In its Q4 2019 report, the airline reported that passengers who were aware of this were 11% more likely to recommend the airline – a good example of the so-called greenconsumption effect.  
Finally, easyJet has signed up to the Science Based Targets Initiative (SBTi), and so joins airlines such as Delta, Air New Zealand, American and KLM-Air France in having its goals independently assessed.
When it comes to accusing airlines of "greenwashing", one of the main claims by climate change groups is that sustainability statements are often not backed up by any kind of evidence.  As a result, this is important and something other airlines should be doing.
Our next generation aircraft report out next week, looks at hydrogen as well as electric aircraft manufacturers.  Look out for it on our sustainability hub.