This article originally appeared in our Sustainability in the Air Newsletter.
The International Civil Aviation Organization (ICAO) Assembly is currently taking place in Montreal, with a key focus being on sustainability.  As part of that, controversies around the industry's Carbon Offsetting and Reduction Scheme for International Aviation (CORSIA) programme are emerging, with one group accusing it of being a "climate fraud."
CORSIA is seen by the industry as a key tool in the journey to netzero. Under the scheme, emissions were originally meant to be capped at 2020 levels, with carbon offsets accounting for any increase.
Of course, 2020 turned out to be an abnormal year due to COVID travel restrictions. And so, IATA had suggested to ICAO that the baseline be set at full 2019 levels. The compromise that looks to be adopted is that the boundary will lie at 85% of 2019 levels.
Quoted by Reuters, Pedro Piris-Cabezas Ph.D. of Environmental Defense Fund said, "we should not entertain anything less than the council deal for 85% of 2019 levels."
ICAO has also looked at the quality of offsets with inputs from NGOs and think tanks, including Brussels-based Transport & Environment (T&E), with ICAO highlighting the group's involvement in a tweet in late September.
In a pretty extraordinary exchange, given T&E's involvement in setting the standards, Carlos Cavel Ambel from T&E had the following to say in response to ICAO's tweet:
"@ICAO, the fact that T&E (myself included) participated through task forces in the development of the standards doesn't mean that we endorse them."
Ambel also accused ICAO of being overly secretive in its processes.
"A Climate Absurdity"
Transport & Environment went further, issuing a press release with the headline "Pay €2 to greenwash a flight to New York with the UN aviation scheme."
The claim by T&E is that the CORSIA costs are far too low (due to offsets only kicking in at post 2019 growth) – they used the example of €2.40 for an EU – USA flight in 2030.
In the press release, Jo Dardenne, aviation director at T&E, is quoted as saying the following:
"Offsetting is a climate fraud, perpetuated on unsuspecting passengers by an industry resisting real climate action. Paying €2 to fly 'guilt-free' to New York is a climate absurdity….CORSIA is a non-starter for our heating planet. Whatever ICAO decides during its Assembly, it will never rise to the challenge of aviation's climate problem."
We'd take issue with the blanket statement about offsetting, but two euros to cover a transatlantic trip to NYC would seem to strain credibility.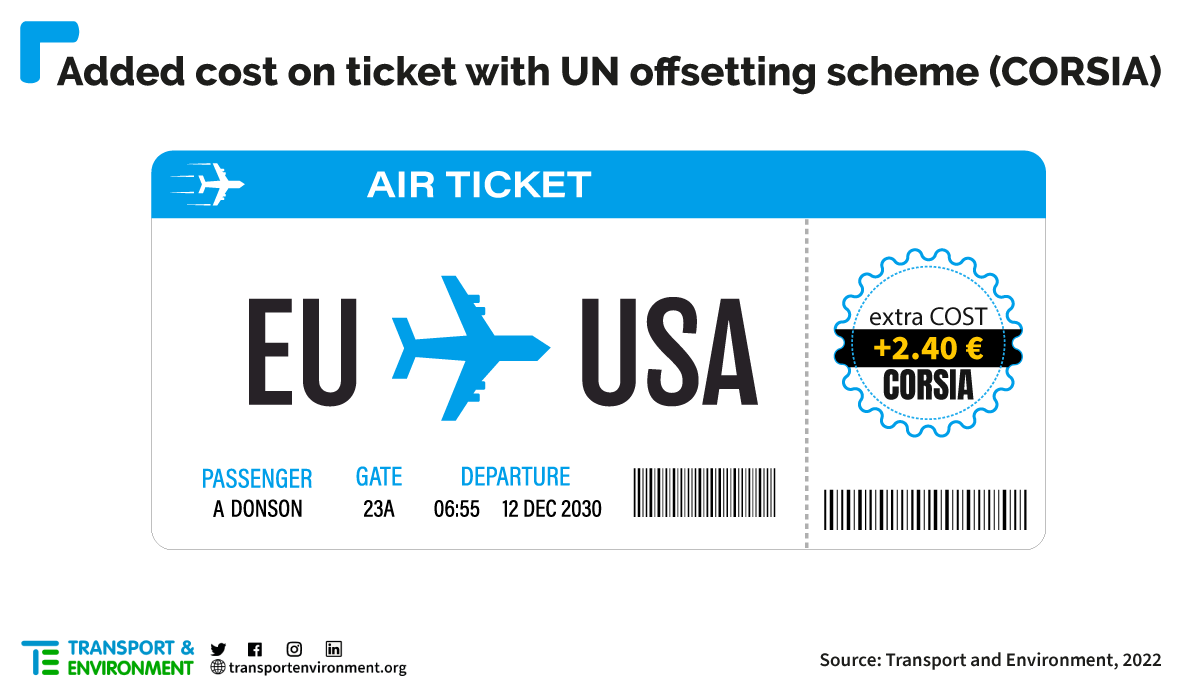 T&E claims that with CORSIA, in 2030 only 0.4% of operating costs for a transatlantic flight will be taken up by purchasing carbon credits. It contrasts this with the EU's ETS scheme.
If ETS were to be applied to non-European Economic Area (EEA) flights, T&E says that 7% of transatlantic flight operating costs would be needed for carboncredits. T&E would then want to see those extra revenues being "reinvested into sustainable solutions and cleaner fuels like e-kerosene and green hydrogen."
On that point, it's noteworthy that T&E's CORSIA press briefing included easyJet's European public affairs manager.  The European LCC, of course, recently announced an accelerated net zero programme, with a heavy emphasis on hydrogen-powered aircraft.
CORSIA should be seen as a starting point
We think a defence of CORSIA can be made as follows:
ICAO has 195 member states, and with countries such as China pushing back, getting something through at the same level as the EU's ETS scheme would be challenging to say the least. The focus needs to be on what's possible.
Of course, that doesn't change the fact that there is a looming climate emergency. Aviation, like other carbon-emitting industries, needs to do its part.
As a result, for us, CORSIA is a starting point. And any airline sustainability plan relying only on CORSIA is not credible.
However, as William Ralliant Clark, ICAO's communications officer tweeted back to T&E, collective international action is always better than individual country-by-country actions.
Much more needs to be done, but this at least sets some kind of foundation that can be built on.
Did you like what you just read? This type of industry content can be found in our twice-weekly Sustainability In The Air newsletter. So make sure to subscribe to our send-out to stay on top of the latest developments and updates on aviation sustainability.